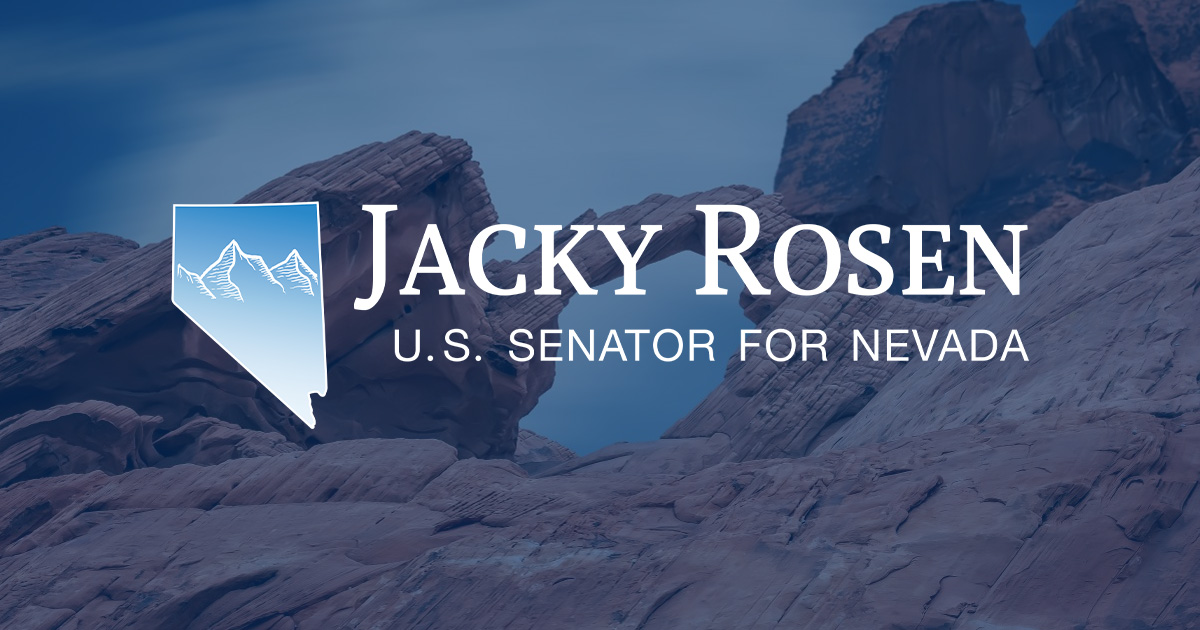 Key Nevada, national tourism organizations endorse Rosen's bipartisan package to restore travel and tourism industry
Organizations urge Senate to pass Rosen's travel and tourism omnibus to help get economy back on track amid challenges of COVID-19 pandemic
WASHINGTON DC — U.S. Senator Jacky Rosen (D-NV) — chair of the Senate Subcommittee on Tourism, Trade, and Export Promotion — today announced her bipartisan legislative package to help restore the nation's travel industry and tourism in the face of ongoing challenges caused by the COVID-19 pandemic has been endorsed by a wide range of key Nevada and national organizations.
In recent weeks, the Omnibus Travel and Tourism Act has been endorsed in letters and statements of support by more than a dozen national and Nevada-based groups:
"There is still work to be done to restore the travel and tourism industry to its full potential, and I am pleased to see the growing support from tourism leaders for our bipartisan legislation," said Senator Rosen. "Local and national organizations endorse the Omnibus Travel and Tourism Act because our legislation will help this key sector of Nevada's economy rebound while supporting businesses and workers who have been hit hard by this pandemic.
the Omnibus Travel and Tourism Act Advanced by the Senate Commerce Committee in December with unanimous support. This legislative package was introduced by Senator Rosen and Ranking Senate Commerce Committee Member Roger Wicker (R-MS) with a large bipartisan group of co-sponsors, including Senators Catherine Cortez Masto (D-NV), Amy Klobuchar (D-MN), Angus King (I-ME), Roy Blunt (R-MO), Dan Sullivan (R-AK) and Rick Scott (R-FL).
Tourism is one of Nevada's major industries and employs nearly 350,000 residents of Nevada. Although Nevada's economy is beginning to recover and experience strong growth, the state's unemployment rate still the worst in the country. In the Las Vegas area, visitor volume is still down 7.6% and hotel room occupancy is down 8.4% compared to pre-pandemic levels in 2019. Nationally, unemployment in the leisure and hospitality industrycovering the bulk of tourism businesses and workers, is nearly double the national average.
WHAT THEY SAY :
Nevada Resort Association – Virginia Valentine, President and CEO

:

"Although the industry is doing better today than six months ago, we remain below many key economic indicators of 2019 and continue to have the highest unemployment rate in the country. international markets are just beginning to return and with trade shows and conventions still lagging behind, economists estimate that our full recovery will be 18-24 months from now, and the impact of omicron and new variants threatens progress. that we have made.

During this pivotal time, the Omnibus Travel and Tourism Act would provide a substantial bulwark against the challenges and uncertainties that may arise due to new variants, such as omicron, and provide much-needed resources to help the industry bring back more jobs and restore the economic activity our communities depend on.

"

Vegas Chamber – Mary Beth Sewald, President and CEO

:

"The Vegas Chamber has a long history of involvement in tourism and hospitality legislation at the federal level of government. As you know, Southern Nevada's tourism industry is an important economic driver in our community and our state.

I want to take this opportunity to thank you for championing the Omnibus Travel and Tourism Act 2021 and offer our support for this important bill.

"

Reno-Sparks Convention & Visitors Authority (RSCVA) – Charles Harris, President and CEO

:

"The travel industry is responsible for an annual economic impact of more than $39 billion on the Silver State and employs more Nevadans than any other industry. The Reno Tahoe area is no exception, attracting millions of foreign and domestic visitors each year.

The Tour Bus Bill provides a myriad of measures to support the future of travel to and through the United States. This bill promises to make air travel safer, especially with regard to the COVID-19 pandemic and the unforeseen complications that arise from it.

It will also lead to increased travel efficiency and convenience, which will inspire potential travelers to take action that will support local businesses and put food on the table for tens of thousands of Nevadans.

Las Vegas Convention and Visitors Authority (LVCVA) – Steve Hill, President and CEO

:

"While domestic and leisure travel have made significant progress, international and business travel remain far behind pre-pandemic norms. The international business and travel sectors need additional support to fully recover. .

The Omnibus Travel and Tourism Act 2021 takes significant steps to focus on the future of travel and tourism.

"

Get Outdoors Nevada & Nevada Outdoor Business Coalition – Rachel Bergren, Executive Director of Get Outdoors Nevada; and Louis M. Bubala, Treasurer of the Nevada Outdoor Business Coalition

:

"​Nevada and other outdoor recreation destinations across the country must be prepared to engage visitors and support outdoor businesses that have been hurt by the pandemic.

It is because of the intersection of our mission and our commitment to outdoor recreation that GON and NVOBC jointly support the Omnibus Travel and Tourism Act.

"

American Gaming Association (AGA) – William C. Miller, President and CEO

:

"The American Gaming Association (AGA), the national trade group representing America's commercial and tribal casino industry, which supports 1.8 million jobs nationwide, is proud to support S. 3375, the Omnibus Travel and Tourism Act.

As we continue to deal with the economic impacts of the COVID-19 pandemic, this important legislation would take significant steps to strengthen travel and tourism in the United States and support the recovery of our industry.

The Omnibus Travel and Tourism Act recognizes the importance of travel to our economy by creating an Assistant Secretary of Commerce for Travel and Tourism and coordinating tourism policy across multiple federal agencies.

American Hotel & Lodging Association (AHLA) – Chip Rogers, President and CEO

:

"On behalf of the American hotel and lodging industry, thank you for your leadership on the bipartisan Omnibus Travel and Tourism Act of 2021.

As our country continues to recover from the devastation caused by the global pandemic, this bill would provide critical support to America's hoteliers, lodging workforce and their communities, and pave the way for a full recovery of the travel and tourism sector.

."

Global Business Travel Association (GBTA) – Suzanne Neufang, CEO

:

"We estimate that global business travel spending this year will be 40% lower than previous estimates, representing a loss of approximately $550 billion in direct annual travel spending due to the pandemic. The business travel industry needs additional support and resources to recover.

As such, GBTA supports the Omnibus Travel and Tourism Act of 2021 as a positive step in restoring business travel and meetings in the United States and abroad.

."

United States Tour Operators Association and National Tour Operators Association (USTOA-NTA) – Terry Dale, President and CEO, United States Tour Operators Association; and Catherine Prather, CTP, President of the National Tour Association

:

"After being decimated due to the pandemic, it was extremely important for our members to return to the international market after the borders reopened on November 8. This move generated much-needed capital to keep our members' businesses operating and helped bring tourism dollars to communities that have suffered without business for nearly two years.

More needs to be done to help our industry, and this common sense piece of legislation is a great first step. We strongly support the bill and its main provisions.

"

US Travel Association – Tori Emerson Barnes, Executive Vice President, Public Affairs and Policy

:

"Proactive government planning will be needed to shorten this timeframe and restore jobs faster.

Bill creates much-needed Assistant Secretary of Travel and Tourism position to help lead industry recovery and provide ongoing federal leadership to increase global competitiveness

. Before the pandemic, travel was a $2.6 trillion industry that supported 16.7 million jobs and generated our country's largest service-sector export.

As the travel industry plays an outsized role in driving the overall US economy, such a high profile position is vital to our country's long-term recovery.

"

Outdoor Industry Association – Lise Aangeenbrug, Executive Director:

"Tourism and travel are an integral part of the outdoor industry, as people from around the world travel to our country's national parks, forests and waterways to experience the unique and breathtaking opportunities that the outdoors American has to offer.

This package would take important steps to safely rebuild America's travel and tourism industry, which in turn would strengthen the outdoor industry and support local economies and job creation in communities across all 50 states.

We are proud to support this package and are grateful for the leadership of Senators Jacky Rosen and Roger Wicker in sponsoring this bill.
###