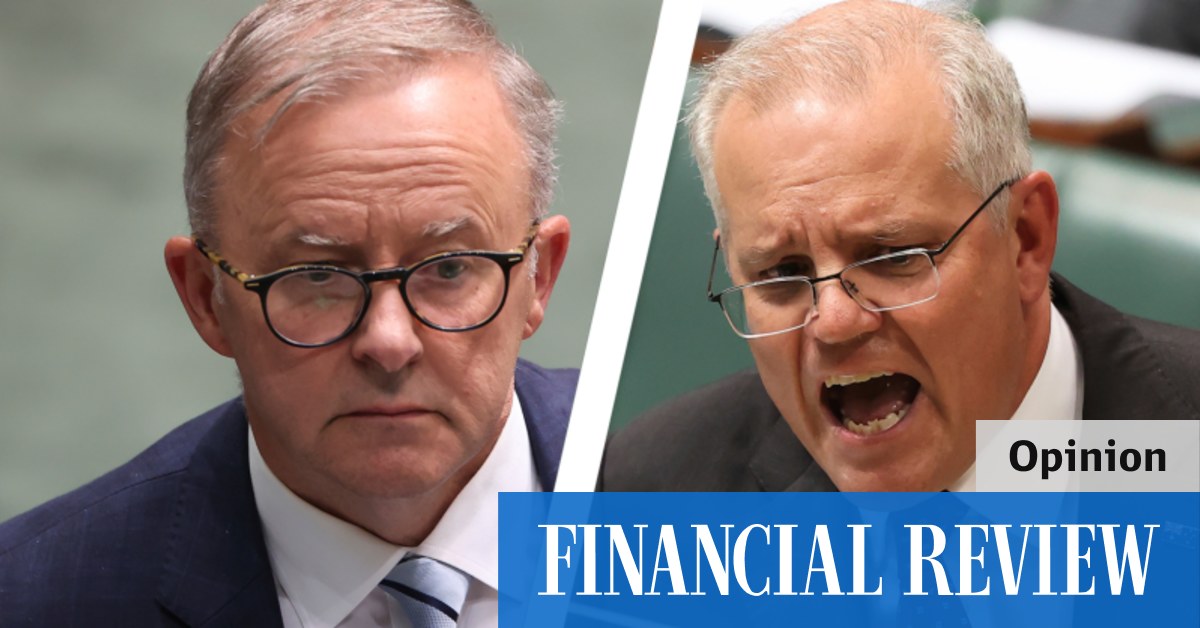 National security needs unity, not partisanship, in a world on the brink
People are worried and no credible election campaign can ignore national security.
So it hardly contradicts reality that the Morrison government is making the protection of our national interests a key issue.
To the credit of the government and our national security agencies, and to the opposition for its broad bipartisanship, Australia has for years made substantial progress in hardening and resilience.
This has involved building or reforming political institutions, capacities and partnerships to give the nation a decent chance in a contested future.
We have a larger defense budget focused on deterrence in our maritime region and an Indo-Pacific foreign policy of activism and solidarity. At home, there is an array of new laws, agencies, powers and coordination arrangements, ranging from infrastructure to intelligence, from federalism to foreign interference.
The American alliance has grown stronger despite the vagaries and dysfunctions of American politics. Along with India and Japan, the Quad has become the heart of our diplomacy, defying the doubters. The AUKUS agreement with Washington and London is a bold move to build national capacity.
None of these have been perfect or incontrovertible, and even on the whole they may not be sufficient for the long-term security of this country. But all were needed, as a cornerstone towards an Australia that can begin to come closer to the sum of its parts when it defends itself or helps its friends.
Indeed, the very accomplishments of the government regarding the Quad and AUKUS are one of the reasons the current national security partisanship is so troubling.
The electoral contest ahead should not be just about scoring points, let alone plunging recklessly into the obscurity of negative rhetoric.
These relationships require partner nations to be absolutely certain of Australia's enduring bipartisanship, as they invest in us with strategic confidence and – in the case of AUKUS – their most protected capabilities.
The electoral contest ahead should not be limited to scoring points on past accomplishments or shortcomings, let alone recklessly plunging into the obscurity of negative rhetoric.
The key question for both sides to address is: what is their strategy to prepare Australia for the long challenges ahead?
As a country, we have long had the luxury of harnessing only a fraction of our potential – with business and civil society, states and territories, universities and unions generally treating national security as the problem of someone else.
For all of us, this feast of history is now over. But the collective journey to the real world has only just begun.
Australia's best chance of weathering the storms to come will require a sense of national unity unimaginable outside of wartime.
It does not mean a general bipartisanship that stifles debate, contestability and scrutiny.
It means a sense of restraint and proportion when it comes to distinguishing healthy partisan difference from accusations of national disloyalty.
The national interest demands a security debate based on vision, not malice.
And that goes to strategy: a declared political framework that brings together all elements of national power, to protect and advance our interests across old silos of agencies, portfolios and issues.
Only once before, in the last year of the Gillard government in 2013, had Australia attempted a national security strategy. This document, while worthy of intent, has fallen short of a shrinking defense budget and a failure to anticipate the pace of geopolitical change.
Since then, coalition governments have avoided issuing a new one, despite encouragement from their ranks, as Senator Jim Molan can attest, and despite a Turnbull-Bishop foreign policy white paper that was strong on security. .
Perhaps an overambitious statement of the entire political agenda would tie hands or limit options, requiring formal positions on difficult perennial issues such as what exactly is security and how leadership, allocation long-term resources and social cohesion in this space should really work.
Before deeming these challenges impossible, both sides of politics may want to familiarize themselves with a recent British effort.
The UK Government's 2021 'Integrated Review' has set a standard for how a nation with limited resources in difficult circumstances can demonstrate that security, development and foreign policy work better together, and in sync with policy in innovation, technology and community.
What Australia needs is a national interest strategy. This would openly project how security is linked to diplomacy, society, economy and technology, as part of a long-term vision of a confident, resilient and inclusive nation – or, as the saying goes the hymn, one and free.