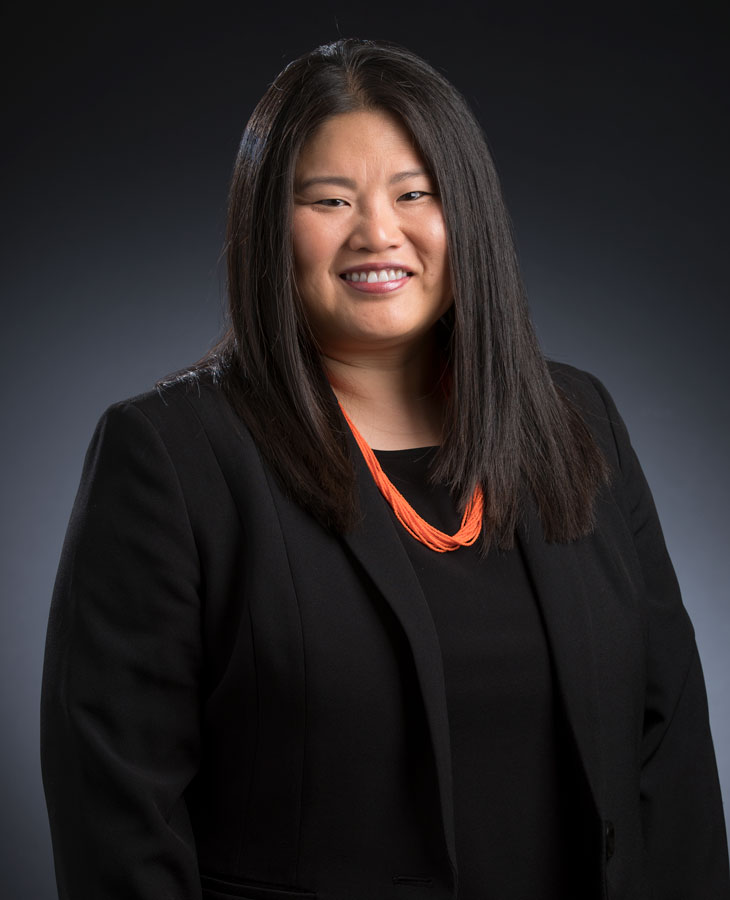 Oklahoma State University appoints Chen vice president of enrollment management
Friday, June 17, 2022
Media contact: Mack Burke | Associate Director of Media Relations | 405-744-5540 | mack.burke_iv@okstate.edu
Karen Chen was named Vice President of Registration at the OSU/A&M Board of Regents meeting on Friday.
As vice president of enrollment management at Oklahoma State University, Chen will oversee the offices of undergraduate admissions, financial aid, and freshman success.
"Karen has been integral to the growth in enrollment. She fully understands the operational side of enrollment as well as the recruiting side and the science of managing enrollment, namely admissions as well as financial aid," said Senior Vice President of Executive Affairs Kyle Wray. "She has connections across campus with colleges and other departments. It takes an entire university to have a solid enrollment management plan. So the partnerships she has created across the university are integral to our success.
Chen has helped shape the enrollment efforts that have led to some of the largest incoming freshman classes at OSU. For her, fostering positive and effective working partnerships on the OSU campus is critical to the success of progressive and innovative strategic initiatives and outcomes.
"There are always opportunities to help more students pursue a college education. We have the opportunity to serve and help even more students from underserved populations. There is a need in our state and everywhere else," Chen said. "We try to help students not only in our own backyard, but also across the United States and on the international landscape. This is a global recruiting effort.
As a graduate of the University of Tulsa, Chen earned a bachelor's degree in communications and then a master's degree in organizational dynamics from the University of Oklahoma.
Chen began serving as the assistant dean of admissions for enrollment management at the University of Tulsa. During her tenure, she has consistently exceeded enrollment goals in her recruiting territory by customizing recruiting strategies. She also served as Dean of Undergraduate Admissions at Drury University in Springfield, Missouri, for nearly two years. While at Drury, Chen was responsible for the enrollment of domestic and international freshmen and transfer students.
Chen was named Acting Vice President of Enrollment Management in July 2021 following the announcement of Wray's appointment as Acting Senior Vice President for Executive Affairs.
Previously, Chen served as Senior Associate Director of Admissions (2014-2018) and Assistant Vice President for Enrollment Management (2018-2021).
For Chen, it's about expanding access points and forming initiatives to educate Oklahoma residents and rural communities on a larger scale as part of our modern land-grant mission. She wants OSU's impact to be felt on a personal level.
"Karen has assembled an exceptional team of individuals who are top of their game and understand CRM systems to help with strategy and build a marketing funnel," Wray said.
Retention is a critical part of enrollment growth and a key part of OSU's overall strategy going forward, he added.
"It takes all of us working together to try to maximize every opportunity we have here at OSU because we do a lot of things really well," Chen said. "It impacts students who never thought they could go to college, for whatever reason, when we give them that opportunity and support to succeed.
"Whether it's a freshman, transfer student, or any non-traditional student, it's about reaching everyone and providing access to an OSU education that will be highly profitable and will change their lives."
For nearly two decades, Chen has been an active member of the National Association for College Admission Counseling (NACAC) and continues to be an active member of the association.
During her tenures as President and Conference Chair for the Great Plains Association for College Admission Counseling (GPACAC), a regional affiliate within NACAC, Chen was responsible for planning and implementing successful annual conferences, strategic planning for revenue generation, budget management, and focus on inclusion and access for the Tri-State Affiliate.
His leadership on NACAC and the GPACAC Board of Trustees provides a platform for global networking and engagement in progressive higher education efforts. Through his experiences, Chen ensures that OSU promotes ethical practices and professional standards for the admissions board.
"Karen is an accomplished professional. She is constantly thinking about results and ways to achieve positive results. It's focused on measurement and how we get the best out of enrollment management and Oklahoma State University," Wray said. "She has a fantastic work ethic.
"He is an exceptional person who is able to easily articulate a vision that people can buy into. And that's a key part of his work.