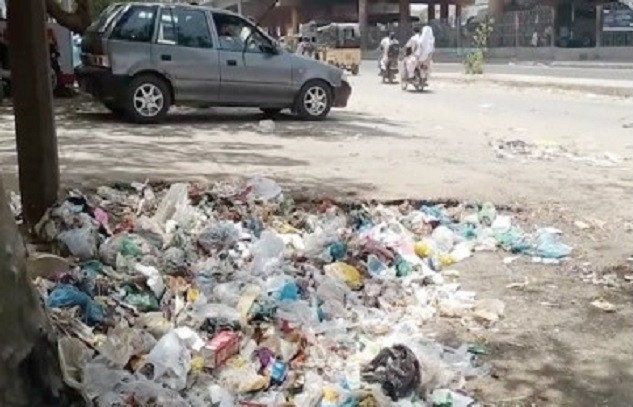 Sustainable solid waste management
ISLAMABAD:

Pakistan generates about 49.6 million tons of solid waste and 4.36 billion cubic meters (BCM) of domestic and industrial wastewater per year, which is increasing by more than 2.4% per year.
As in other developing countries, about 60-70% of solid waste and only 1% of total wastewater is treated before disposal.
Pakistan lacks waste management infrastructure, which leads to serious environmental problems. Most municipal waste is burned, dumped or buried on vacant land, posing a threat to the health and hygiene of the general population.
Karachi, Pakistan's largest city, generates over 16,500 tonnes of municipal waste daily, while Lahore generates 7,690 tonnes, Faisalabad 5,017 tonnes, Rawalpindi 4,500 tonnes, Peshawar 2,048 tonnes and Quetta 716 tonnes.
Therefore, all major cities face enormous challenges in managing municipal solid waste and wastewater.
Low capacity, lack of financial resources, lack of waste management equipment and technologies, lack of urban planning and low public awareness contribute to the problem. Solid waste and sewage management does not have a proper system and therefore the following situation arises:
The solid waste collection system is not visible.
Solid waste is usually dumped in open spaces on the streets.
Lack of sorting of solid waste at source.
Open burning of waste is a common practice as there are no controlled sanitary landfills.
Citizens are not aware of sustainable waste management, which poses a threat to the environment and public health.
The sustainable management of wastewater and solid waste has become an ever-increasing challenge that poses a threat to humanity on earth.
Unsustainable waste management has led to the pollution of soil, water and air resources.
Pakistan, which has very weak municipal institutional capacity, fails to manage waste and as a result solid waste and untreated sewage is dumped on the ground, in water bodies and can be transported by dust and greenhouse gas (GHG) emissions to the atmosphere.
Diseases related to sewage and solid waste cause more than 5 million deaths per year.
Various recycling techniques are used to solve the problem, however, the lack of technology, capacity and resources makes it difficult for developing countries to embark on such ventures.
Developed countries use their resources and technology to manage it sustainably, but in most developing countries the problem is not properly managed.
To meet these new challenges, a variety of new wastewater treatment technologies such as membrane filtration systems, automatic variable filtration (AVF), advanced oxidation processes (AOP) and UV irradiation have been proposed, tested and applied to respond to both current and planned treatment. terms.
Pakistan still uses outdated wastewater and solid waste management techniques.
The recycling of valuable materials such as plastic, tin, paper, glass, etc. is now gaining momentum in the informal sector, as garbage collectors collect these items for resale at recycling points in urban centres. However, solid waste and decomposable wastewater still pose real challenges as there is no recycling arrangement or price tag on their trade.
Therefore, decomposable waste is dumped in open spaces all over cities and urban centers. As decomposition begins, odors and foul odors pose another challenge to surrounding cities and urban centers.
Biogas is produced from the anaerobic digestion (AD) of organic matter, such as manure, MSW (municipal solid waste), sewage sludge, biodegradable waste and agricultural slurry, under anaerobic conditions at the help of micro-organisms, which offers the hope of recycling this waste. decomposable waste.
Anaerobic digestion is widely considered an environmentally friendly technology for various organic wastes, including sewage sludge.
Although the implementation of anaerobic digestion as an alternative sewage sludge treatment method is underway in many advanced countries, developing countries lack such sustainable wastewater recycling techniques.
Thus, two immediate marketable products such as biogas as an energy source and organic fertilizers are immediately harvested from this system.
Since anaerobic digestion is carbon neutral, it can generate carbon credits as an additional source of income.
Waste-to-energy opportunities also exist in Pakistan, as the National Electric Power Regulatory Authority (Nepra) has announced a competitive initial tariff of US$0.10007 per kWh for waste-to-energy projects based on a period operational for 25 years, with an overall capacity cap of 250 megawatts where the share of each province and federal territory was maintained at 50 MW.
The construction period of these plants is limited to 24 months.
The Methane Pledge, led by the United States and already committed by more than 100 countries, including Pakistan, during the UNFCCC COP-26 held in the United Kingdom, offers a great opportunity not only to stimulate waste-to-energy projects, but also technology and resource transfer. mobilization in developing countries like Pakistan.
The author holds a PhD in natural resource management and has worked in national and regional air quality regulation and monitoring agencies.
Published in L'Express Tribune, June 13e2022.
As Business on Facebook, follow @TribuneBiz on Twitter to stay informed and join the conversation.