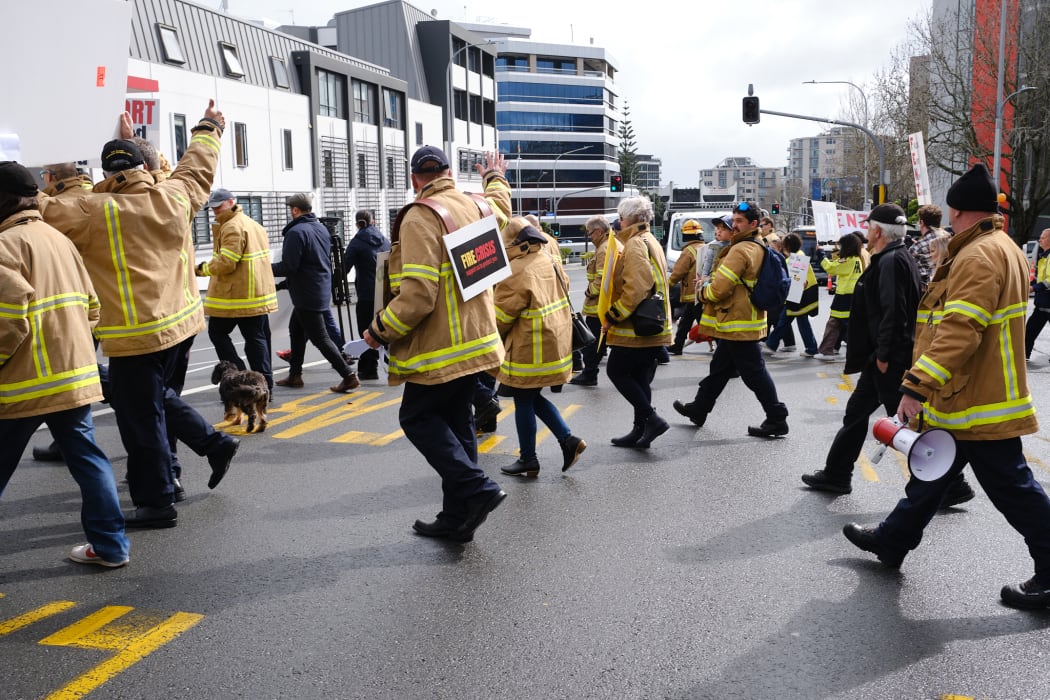 'There will never be trust': FENZ leadership loses goodwill as union agrees to scale back industrial action
A firefighter warns that trust in FENZ has deteriorated to such an extent that it cannot be restored unless there are changes in leadership.
After a stalemate in negotiations, firefighters walked off the job across the country, the New Zealand Professional Firefighters Union and Fire and Emergency NZ agreed to end industrial action and find a way forward, but a firefighter warns that trust in FENZ management has been lost.
The strikes came amid simmering tension between the sides after the two sides reached a stalemate after 13 months of negotiations.
Interior Minister Jan Tinetti has brought the two sides together to find a solution to the current impasse in collective bargaining.
Following this meeting, the union agreed that all strike notices would be suspended and that no further industrial action would continue or take place. FENZ agreed to withdraw the request for facilitated bargaining through the Labor Relations Authority.
Both parties signed a facilitated mediation with the assistance of an agreed independent mediator.
"The meeting was constructive and the parties shared a willingness to work towards a solution," Professional Firefighters Union National Secretary Wattie Watson said in a statement.
All parties, including Tinetti, have also agreed not to provide further public comment.
But a firefighter, who wished to remain anonymous, expressed his hopes and concerns to RNZ, warning that the next round of talks "must be meaningful".
"They have to address all the concerns that we as a collective have brought. That means recognition of occupational cancers, an over-inflated head office, physiological support, unreliable equipment and, last but not least, obviously death rates. pay that at least keep up with inflation."
All so that "firefighters are not more broken every day," he said.
He also warned of the damage done to the relationship between paid firefighters and FENZ management, and suggested that members of the management team should leave.
"What they've shown is a disregard for those on the pitch doing the job. If they're still in place, I have little confidence."
"There will never be trust, in my view, in the leadership of FENZ as long as those who put us in this position are still leading it," he said.
But the firefighter trusted the union.
"If the union has agreed to enter into this [facilitated mediation] they must feel that there is hope."
The two-hour strikes in August were difficult for firefighters, many of whom had never left work before but felt they had little choice.
"None of this has come easy for us," the anonymous firefighter said.
"Leaving work was the worst thing in the world," he concluded.
FENZ and the union do not comment.
The minister intervenes
Home Secretary Jan Tinetti has had several meetings with FENZ and the firefighters' union this month, although her office did not give an exact figure.
The minister said she first stepped in when negotiations broke down in May and helped find an independent mediator.
After the first nationwide strike on August 19, Tinetti told RNZ she would "work incredibly hard to find a solution".
"Sometimes that can mean I overstep my responsibilities as Home Secretary, but it's in the best interest of our country and I'll do whatever I can," he said. she stated.
Tinetti's office did not respond to a question from RNZ about whether the minister had exceeded her remit.
"The Minister is responsible for the legislative framework of FENZ, the oversight of the Crown's interest in FENZ and the appointment of members of the board of FENZ," a statement read.
Industrial action is suspended until the end of September.