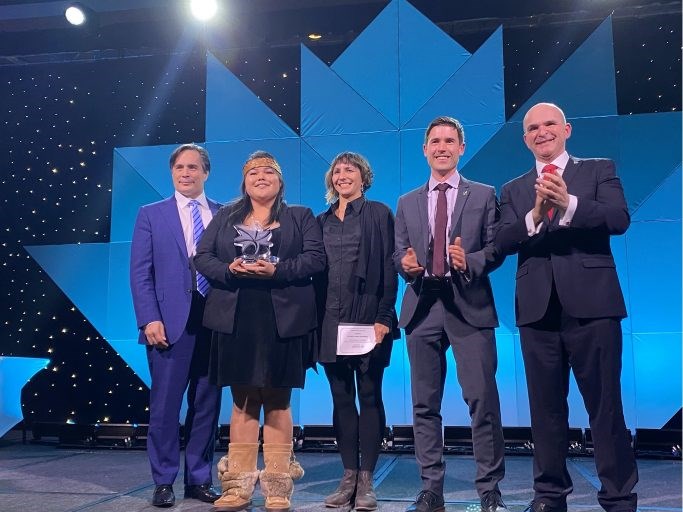 Whistler SLCC Recognized with National Tourism Award
SLCC Named Winner of Tourism Industry Association of Canada's National Indigenous Tourism Award on December 1
Whistler's Squamish-Lil'wat Cultural Center (SLCC) is honored on the national stage.
The local institution was named the winner of the Tourism Industry Association of Canada's National Indigenous Tourism Award at a gala held in Ottawa on Wednesday evening, December 1. The award was presented by the Indigenous Tourism Association of Canada (ITAC).
Te'c Georgina Dan, SLCC Cultural Leader, Lil'wat Nation, was on hand to accept the award on behalf of her colleagues.
In a statement posted on social media, the SLCC said its team "is proud and joyful" to receive the award.
"Every member of staff and board worked with an open heart, an innovative spirit, perseverance and bursts of joy during heartbreaking times to get us to where we are today," the statement read. , adding, "One of our primary goals as an organization is to provide meaningful employment for Indigenous youth. We look at Georgina's smile in these photos and it reaffirms our purpose and regenerates our love for the work we do.
ITAC President and CEO Keith Henry called SLCC "a shining example of an Indigenous tourism business" that empowers Indigenous peoples.
The Center is "committed to authentically sharing the cultural traditions of the Squamish and Lil'wat peoples in order to inspire greater understanding and respect for Indigenous peoples," he said in a statement. "The Squamish Lil'wat Cultural Center has adapted extremely well to the harsh realities of the COVID-19 pandemic while remaining true to its core values ​​of passion, empowerment, accountability, collaboration and equality.
The award recognizes an Indigenous tourism business that has demonstrated its commitment to developing, promoting and delivering an authentic, innovative and enriched Indigenous tourism experience. The award finalists were judged in a range of categories, including employment, economic, social and cultural benefits for Indigenous peoples; innovation and sustainability.
The SLCC won out over fellow finalists Feast Cafe Bistro in Winnipeg and Metis Cultural Days in Saskatoon.